How To Be A Blackjack Dealer
Read Time:
11 Minute, 43 Second
Introduction
How To Be A Blackjack Dealer: Becoming a blackjack dealer can be an exciting and rewarding career path for those interested in the world of casinos and card games. As a blackjack dealer, you play a crucial role in facilitating the game, ensuring fair play, and providing an enjoyable experience for players. If you have a passion for cards, enjoy interacting with people, and can handle the fast-paced casino environment, this profession may be a great fit for you.
To become a blackjack dealer, you'll need to undergo training and meet certain requirements. Many casinos and gaming establishments offer dealer training programs where you can learn the necessary skills and gain hands-on experience. During training, you'll become familiar with the rules of blackjack, various dealing techniques, chip handling, and customer service etiquette.
Apart from technical skills, being a successful blackjack dealer requires excellent communication, attentiveness, and the ability to remain calm under pressure. You'll need to engage with players from diverse backgrounds, handle disputes professionally, and maintain the flow of the game seamlessly.
How much does a blackjack dealer get?
The real money is made in the form of tips, at least in the USA, which increases the overall salary significantly. A blackjack dealer salary, including tips, is between $30,000 and $60,000 annually. Some dealers may earn more than that, pulling in as much as $100,000 or more in a year.
The earnings of a blackjack dealer can vary depending on various factors, including the location of the casino, level of experience, and the casino's specific pay structure. On average, a blackjack dealer's base salary can range from around $17,000 to $25,000 per year. However, their overall income is significantly bolstered by tips received from players.
In the fast-paced world of casinos, tips can be quite substantial, especially if the dealer is courteous, skilled, and engaging with the players. A proficient blackjack dealer has the potential to earn anywhere from $30,000 to $60,000 or more annually, including tips. High-end casinos and busy establishments tend to offer better earning opportunities for dealers due to increased player traffic.
Nonetheless, it is essential to acknowledge that being a blackjack dealer demands adaptability, excellent math skills, and the ability to handle stressful situations with poise. Additionally, dealers often work irregular hours, including weekends and holidays, which can affect their overall work-life balance.
Can blackjack be a career?
You seem to have been doing pretty well too, so now you are thinking of becoming a professional blackjack player. Great! We're here to tell you that it's possible to make a living from playing blackjack, as long as you know all the right things and you are lucky enough to win your games.
Blackjack can potentially be pursued as a career, but it comes with significant challenges and requires a unique set of skills. Professional blackjack players, often referred to as "advantage players" or "card counters," employ strategies to gain an edge over the casino. Card counting involves keeping track of the cards that have been dealt to gain insights into the remaining deck's composition.
Successfully counting cards can tilt the odds in the player's favor, resulting in long-term profits. However, it is crucial to note that card counting is not illegal, but it is heavily frowned upon by casinos. If caught counting cards, players risk being banned or barred from the casino premises.
Moreover, becoming a successful blackjack professional demands extensive knowledge, practice, and discipline. Players must have a deep understanding of the game, advanced mathematical skills, and the ability to remain calm under pressure.
While a select few have managed to make a living as professional blackjack players, it is essential to recognize that it is a risky and unpredictable endeavor. Casinos continuously employ countermeasures to thwart card counters, such as using multiple decks, frequent shuffling, and advanced surveillance technology.
How do you play blackjack as a dealer?
The Dealer's Play
If the total is 17 or more, it must stand. If the total is 16 or under, they must take a card. The dealer must continue to take cards until the total is 17 or more, at which point the dealer must stand.
As a blackjack dealer, your primary responsibility is to facilitate the game and ensure it runs smoothly while following the casino's rules and regulations. Here's a general overview of how to play blackjack as a dealer:
Understand the rules: As a dealer, you must have a thorough understanding of the game's rules, including card values, betting procedures, and payout calculations.
Shuffle and deal cards: Begin by shuffling the deck (or decks) thoroughly. Once the players place their bets, deal two cards to each player and two to yourself, one face-up and one face-down.
Player decisions: Players will then make decisions based on their hand's total value and the dealer's face-up card. They can choose to hit (receive another card), stand (keep their current hand), double down (double their bet and receive one more card), or split (if they have a pair, they can split them into two separate hands).
Dealer plays: After all, players have completed their decisions, it's the dealer's turn. The dealer follows specific casino rules on when to hit or stand based on their hand's total value.
Payouts: If players win their hands, the dealer pays out their winnings according to the payout rules. If players lose, their bets are collected by the casino.
Maintain game pace and etiquette: As a dealer, you must keep the game moving at a steady pace and enforce casino etiquette, ensuring that players behave appropriately at the table.
Are blackjack dealers trained?
Many dealers complete a certificate or training program after finishing high school. Some casinos offer in-house training programs for dealers to learn the gambling rules and procedures, as well as gaming laws and regulations. Basic math and people skills are important in this job.
Blackjack dealers undergo thorough training before they start dealing at a casino. Training is essential to ensure that dealers are proficient in the game's rules, procedures, and customer service skills. The training process typically involves the following:
Game Rules and Procedures: Dealers are taught the rules of blackjack, including card values, hand rankings, and the objective of the game. They also learn how to handle cards, shuffle decks, and manage chips.
Dealing Techniques: Training covers various dealing techniques, such as the proper way to deal cards to players, the order of play, and how to conduct the game in a professional manner.
Payouts and Chip Handling: Dealers learn how to accurately calculate payouts for different winning hands and manage chip transactions during bets and exchanges.
Customer Service: Dealing blackjack requires interacting with players continuously. Hence, dealers are trained to provide excellent customer service, including maintaining a friendly demeanor, addressing player questions, and resolving any issues that may arise during the game.
Casino Policies and Regulations: Dealers are educated about the specific policies and regulations of the casino they will be working in. This includes understanding responsible gambling practices and identifying potential signs of problem gambling.
Do blackjack dealers know basic strategy?
Sometimes casinos will even make cards with basic strategy available at the table. But they will never insist you follow it. Never be fooled by a dealer's "sage" advice. "Maybe five percent of dealers know basic strategy.
Blackjack dealers are generally familiar with basic strategy, although their level of proficiency may vary depending on the casino and their experience. Basic strategy in blackjack refers to the mathematically optimal decisions to make based on the player's hand and the dealer's face-up card. It aims to minimize the casino's advantage and maximize the player's chances of winning.
While dealers know basic strategy, they may not always use it during the game. Their role is to facilitate the game and follow the casino's rules rather than make strategic decisions for players. Dealers are required to adhere to specific protocols on when to hit or stand based on the total value of their hand, regardless of what basic strategy suggests.
However, some casinos do allow dealers to offer basic strategy advice to players if asked. This practice is more common in friendlier, player-focused establishments. While basic strategy provides the best statistical approach to playing blackjack, it does not guarantee winning in every individual hand. Blackjack remains a game of chance, and factors like luck and variance also play a significant role in the outcome of each hand.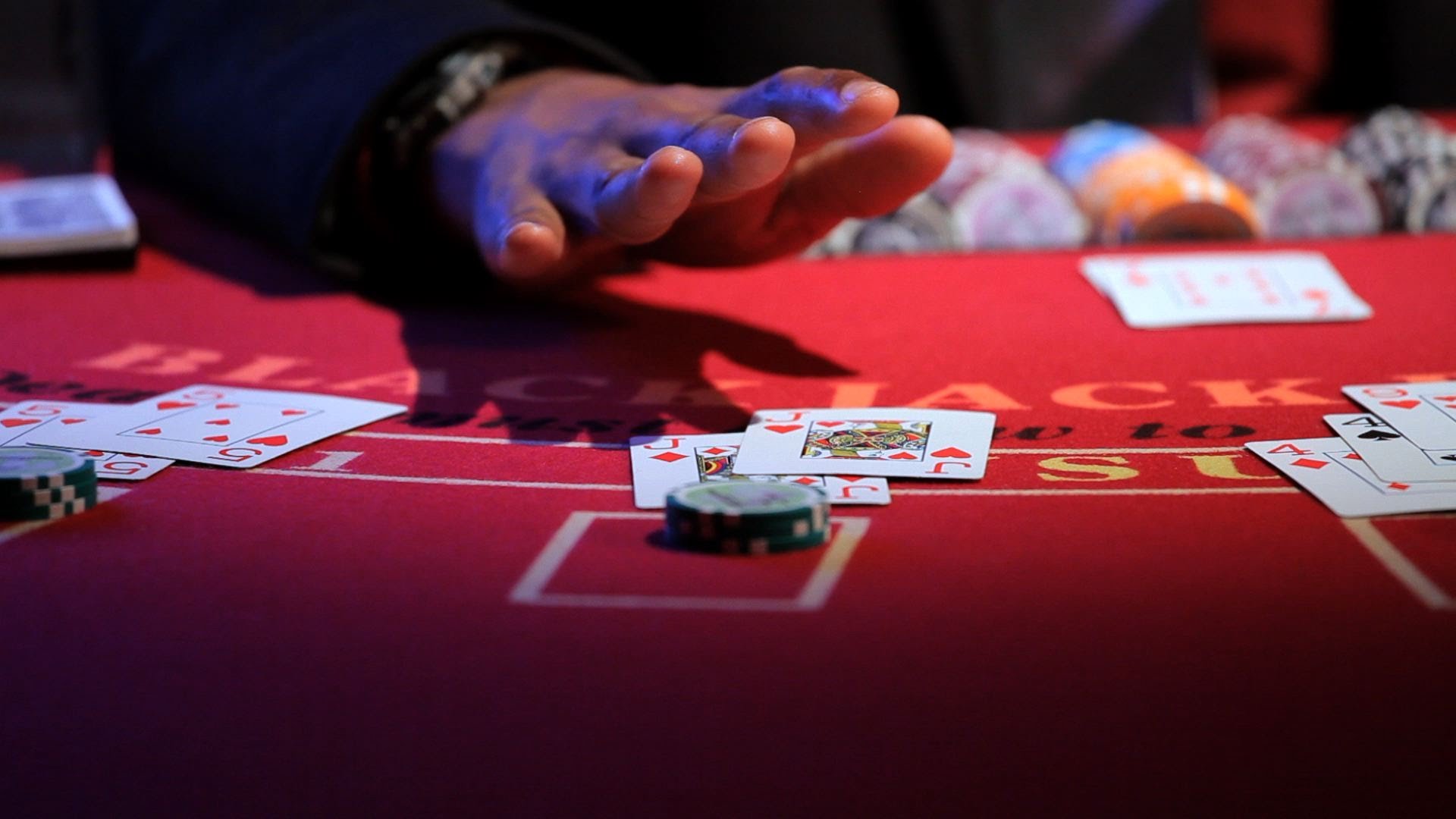 Is blackjack harder than poker?
So, in the epic confrontation between poker and blackjack, poker is harder to learn and harder to become good at while blackjack is probably more accessible for most players.
Comparing the difficulty of blackjack and poker is subjective, as both games have distinct complexities and require different skill sets.
Blackjack, as a casino table game, is relatively straightforward to learn and play. The primary goal is to get a hand value as close to 21 as possible without exceeding it, and players compete against the dealer rather than each other. The game's simplicity makes it accessible to beginners, but mastering blackjack involves understanding basic strategy, card counting (for advantage players), and managing betting decisions to maximize long-term profitability.
On the other hand, poker is a diverse and multifaceted card game with many variants, each having its complexities. Unlike blackjack, players compete against each other, which introduces elements of psychology, strategy, and bluffing. Poker demands a deeper understanding of hand rankings, betting patterns, reading opponents, and adapting to different playing styles. The strategic depth in poker can make it challenging for players to master and consistently win over time.
Ultimately, the difficulty of each game depends on the individual's preferences, skills, and experience. Some may find blackjack more accessible due to its simplicity, while others might be drawn to the strategic depth and competitive nature of poker. Both games offer unique experiences and can provide hours of entertainment for players of all skill levels.
Should you hit at 16 blackjack?
It is best to hit when holding a hand of 10 or 12-16, and stand on anything 17 and over. An ace gives you a good chance of making 21 with a hit.
In blackjack, the decision to hit or stand on a hand with a total value of 16 depends on the dealer's face-up card and the specific variant of the game being played. Generally, a hand totaling 16 is considered a weak position for players because it is unlikely to win without the dealer busting (exceeding 21). However, hitting is not always the best choice.
If the dealer's face-up card is a 7 or higher, it is statistically more favorable for players to hit on a 16. This is because the dealer's strong face-up card makes it more likely that they have a hand totaling 17 or more, and hitting provides the best chance to improve the hand's value.
On the other hand, if the dealer's face-up card is a 6 or lower, players have a better chance of the dealer busting. In this scenario, basic strategy dictates that players should stand on a 16, as hitting carries a higher risk of busting their own hand.
Is blackjack a profitable game?
Blackjack is one of the best games to play at the casino if you want to make a profit. You can reduce your chances of losing by implementing various strategies. Basic strategy, card counting, hi-lo, and other techniques are some good examples.
Whether or not blackjack is a profitable game depends on several factors, including the player's skill level, knowledge of basic strategy, and ability to implement advanced techniques such as card counting. Here are some key considerations:
Basic Strategy: Following basic strategy significantly reduces the casino's edge and improves the player's chances of winning. Players who consistently make optimal decisions based on basic strategy can expect a relatively low house edge, making blackjack more favorable compared to many other casino games.
Card Counting: Card counting is a technique used by skilled players to gain an edge over the casino. When successfully executed, card counting allows players to adjust their bets and playing strategy based on the remaining cards in the shoe. However, casinos actively discourage card counting and may take countermeasures, such as reshuffling frequently or banning card counters.
Bankroll Management: Proper bankroll management is crucial for long-term success in blackjack. Players must be disciplined in managing their bets and avoiding excessive risks to survive the natural variance inherent in the game.
Table Rules and Payouts: The specific rules and payout ratios at a blackjack table also impact its profitability. Some rule variations can favor the player, while others favor the casino.
Conclusion
Becoming a blackjack dealer offers an intriguing and dynamic career path within the casino industry. The journey to becoming a proficient dealer involves mastering the game's rules, practicing various dealing techniques, and developing exceptional customer service skills. It is a role that demands both technical expertise and interpersonal finesse.
Training programs provided by casinos or gaming schools are essential stepping stones, as they equip aspiring dealers with the necessary knowledge and hands-on experience. These programs ensure that future dealers are well-prepared to handle the fast-paced and ever-changing environment of the casino floor.
While the road to becoming a blackjack dealer may require dedication and effort, the rewards can be substantial. From meeting new people from all walks of life to being immersed in the excitement of the gaming world, the job offers unique experiences and opportunities for personal and professional growth.
For those who thrive in social settings, possess a love for cards, and enjoy the challenge of maintaining composure under pressure, a career as a blackjack dealer can be a fulfilling and enjoyable choice. As a dealer, you play a vital role in creating a memorable and enjoyable gaming experience for players, making each day on the job a thrilling adventure in the realm of chance and blackjack skill.